BUY 1911-22 A1 Full Size
Browning® scaled the 1911-22 A1 Semi-Auto Rimfire Pistol to fit the .22 LR cartridge, making it approximately 85% of the original size Model 1911. The Browning 1911-22 A1 still handles, and disassembles just like the 45 caliber 1911 used by the U.S. military for over 100 years. All of the pistol's controls operate as those on the original designed Model 1911. The slide stays open on an empty magazine and is released by either pushing down on the manual slide release, or pulling back on the slide and letting it go after a loaded magazine is inserted into the magazine well. BUY 1911-22 A1 Full Size
browning .22 pistol
The magazine release is positioned adjacent to the trigger guard for convenient operation, and the grip safety and thumb safety are also true to the original 1911. The 1911-22 features an aluminum alloy frame and slide finished in matte black, and brown composite, checkered grip panels.
The barrel is made of stainless steel and has a target crown. The true GI style sights are unobtrusive and quick to pick up. The Browning 1911-22 A1 Semi-Auto Rimfire Pistol gives shooters the opportunity to inexpensively practice shooting a 1911-designed pistol, while learning one of the most important chapters in U.S. firearms history. Comes with one 10-round steel magazine.
browning 1911-22 pistol
Operates and disassembles like the original 1911
Scaled to fit the .22 LR cartridge
85% of the original size 1911
Aluminum alloy frame and slide
Grip and thumb safety
Checkered grip panels
Stainless steel barrel
GI style sights
10-round magazine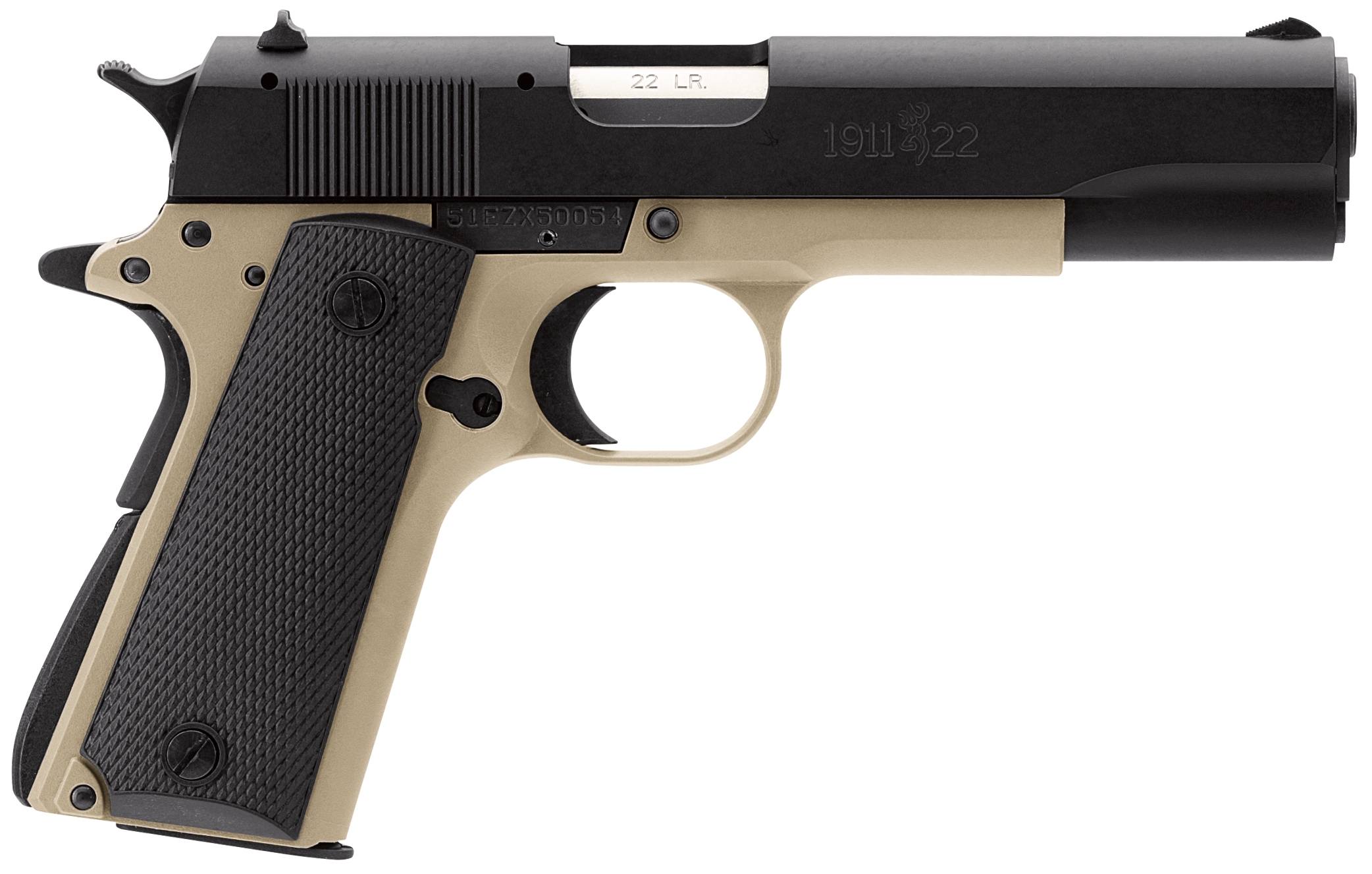 Everything a 22 LR caliber 1911 should be. The Browning 1911-22 isn't a full size 1911 with a barrel conversion kit. It's built to 85% of the scale of John M. Browning's original 1911 pistol in 45 ACP. Designed with a sense of duty and precision, and copiously tested to ensure accuracy, function, and the feel you should expect from a pistol bearing the Browning name. The 1911-22 A1 model is designed faithfully to look and feel of the original government model 1911-A1.
| | |
| --- | --- |
| SKU | 3007 |
| Item Number | 51802490 |
| UPC | 23614072003 |
| Caliber | 22 LR |
| Barrel Length | 4 1/4″ |
| Overall Length | 7 3/8″ |
| Weight | 15 oz |
| Magazine Capacity | 10 |
| Sight Radius | 5 1/2″ |
| Barrel Finish | Matte |
| Wood Grade | Grade I |
| Receiver Finish | Matte |
| Front Sight | Black A1 |
| Rear Sight | Black A1 |
| Barrel Material | Steel |
| Checkering | Laser |
| Receiver Material | Aluminum Alloy |
| Trigger Finish | Matte Black |
| Trigger Guard Finish | Matte Black |
| Magazine Type | Single Stack |
| Trigger Material | Alloy |
| Trigger Guard Material | Alloy |
| Case | ABS |
Extra Information
Classification:
Restricted